In the press
"The future of journalism relies on blockchain-based news ecosystem", says PUBLISH CEO
26 April 2023
During a keynote speech at the "World Journalists Conference 2023," Kwon Sung-min, CEO of PUBLISH, shared his vision for the future of journalism. According to Kwon, cryptocurrency and blockchain technology will increasingly shape the journalism ecosystem, transforming how media outlets generate revenue and encouraging greater reader participation. Kwon emphasized the importance of restructuring the revenue structure of media outlets, and highlighted the potential for blockchain technology to promote transparency and combat the spread of fake news.
Overall, Kwon's speech, entitled "Blockchain-Based News Ecosystem," showcased the potential of blockchain technology to transform the journalism industry, leaving attendees with much to consider.
After a four-year interval due to the COVID-19 pandemic, the 11th annual World Journalists Conference returned in full force, drawing over 70 journalists from 50 countries. The conference was held on full scale, offering a platform for journalists from around the world to discuss pressing issues facing the journalism industry. The focus of this year's event was twofold: to explore the coexistence and development of local regions and journalism, and to discuss the future of journalism in the digital age. The diversity of perspectives offered by the attendees made for a rich and thought-provoking conversation, highlighting the challenges and opportunities facing journalists around the world.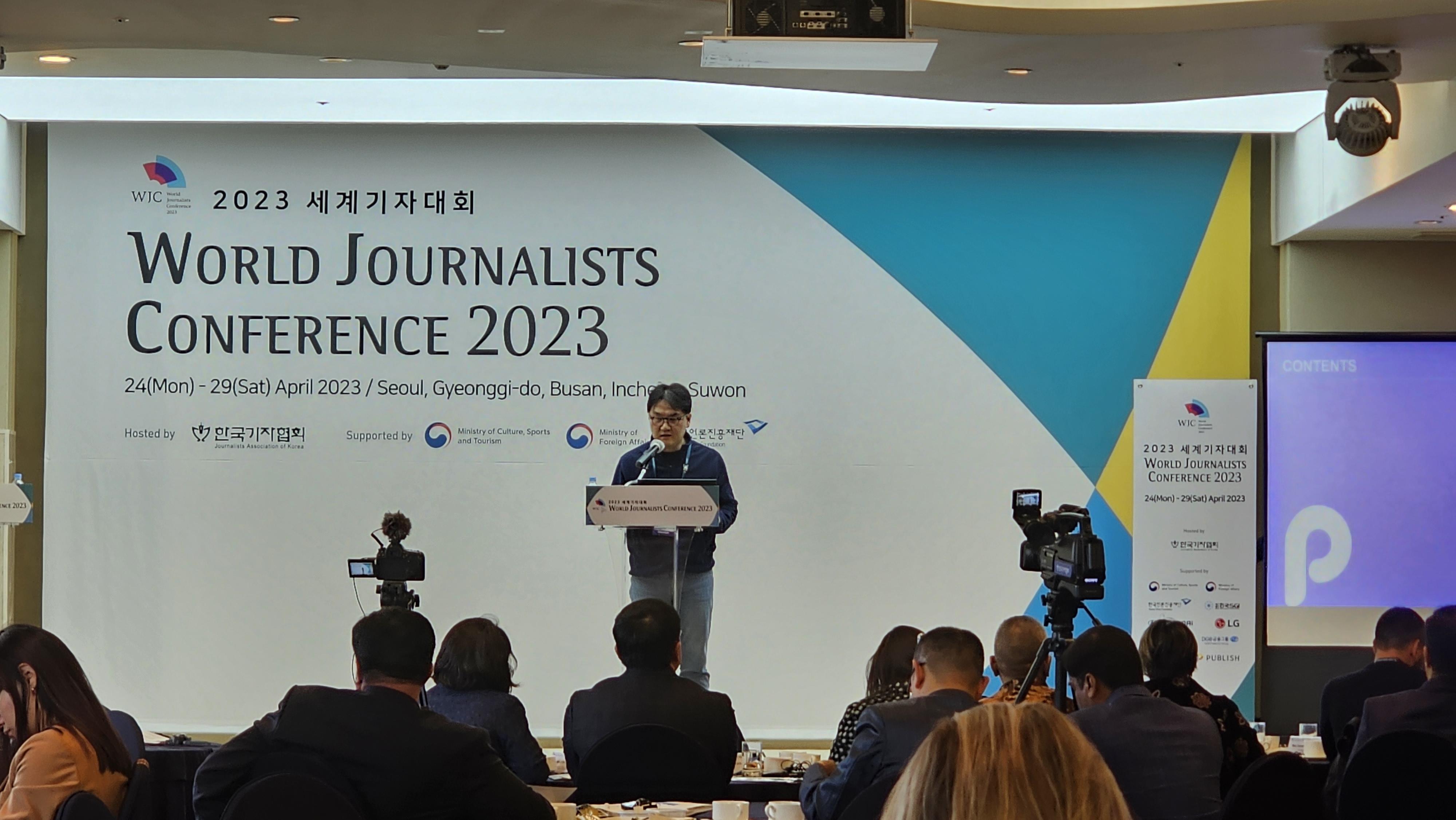 Following the two sessions, Kwon took the stage to discuss the potential of blockchain in journalism. He proposed the adoption of a token reward system and ecosystem as a new revenue model for media companies and a way to increase reader engagement. Kwon highlighted the problems faced by news media, and introduced blockchain technology as a solution, describing the publishing protocol ecosystem as a potentially sustainable community and system. He emphasized the importance of loyal readers, whose activities such as reading, sharing, and commenting could be rewarded with tokens. By increasing direct visits to news media, Kwon suggested an environment where journalism could focus on journalistic pursuits rather than news production for traffic, ultimately reducing the distribution stage of advertisements to increase efficiency.
Kwon made it clear that PUBLISH does not propose dismantling the current journalism model but rather supplementing it with blockchain technology. With an immutable blockchain, all activities within the news ecosystem can be recorded and verified, and be rewarded with tokens. PUBLISH has collaborated with the Korea Journalist Association to build the world's first decentralized, contactless identity verification system for journalists. Kwon highlighted the limitations of plastic press cards issued by many journalist associations worldwide, which are an unstable method that can easily be lost or forged. The decentralized identity verification (DID) press card issued by PUBLISH will enable conducting surveys without disclosing important personal information and facilitate news funding and emergency funding support.
Kwon also noted that media outlets can expect to improve their revenue through blockchain, not only through tokens but also by creating non-fungible tokens (NFTs) as an additional source of income. News articles and photos can be converted into NFTs, proving ownership and originality and allowing for efficient transactions. Finally, Kwon explained that the reward system for readers will not diminish the quality of journalism or the media industry but instead provide a way to approach readers more intimately and transform them from "simple consumers or spectators" into active "stakeholders" who can share value in various ways. At the event, PUBLISH demonstrated the Korea Journalist Association DID press card for attendees
Back to list